HTA Virtual Meeting Week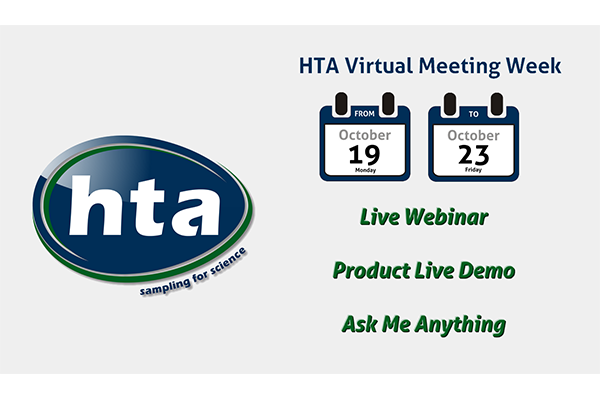 Has the week you planned in Munich been suddenly cancelled?
HTA has organized a Virtual Week for our business partners and also for new potential distributors. The Virtual Week will be rich of valuable events! Do not lose this opportunity: see below the program and book your participation in the events!
Live Webinar
Oral presentation and live demonstration of a product/application. The event is aimed for a wide audience; there will be 2 sessions per day:
Tuesday, 20th October (9.30 and 16.00, GMT+02:00)
HT4000A sample prep workstation, an example of application: analysis of 25-OH-Vitamin D3/25-OH-Vitamin D2 in serum/plasma
Thursday, 22nd October (9.30 and 16.00, GMT+02:00)
HT1500U for Ion Chromatography and Flow-Through Cell applications;
****
Product Live Demo
One-To-One meeting. Your HTA sales rep will present you one product through an oral presentation and live demo.
Monday, 19th October
LC autosamplers

Tuesday, 20th October
Sample prep workstations

Wednesday, 21st October
GC autosamplers

Thursday, 22nd October
IC autosamplers

Friday, 23rd October
ICP autosamplers
****
Ask Me Anything
One-To-One meeting to talk with the HTA specialist about the topics mentioned below:
Monday, 19th October
Service & Software

Wednesday, 21st October
Applications

Friday, 23rd October
R&D